Sand Grease Pupa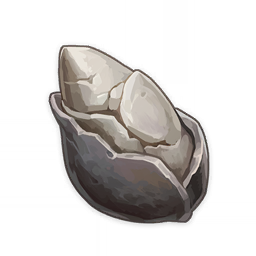 Sand Grease Pupa
Teyvat's Resources
Local Specialty (Sumeru)
You can only find such husks deep in the desert where the Quicksand Eels breed. The hardened shell is meant to protect the Quicksand Eels' larval bodies until they finally acclimate to the conditions of the dry desert.
Guide:
Sources:
Found in the deserts of Sumeru
Recommendation: Found in Wenut Tunnels
Used by character ascensions:
Description:
In the legend of the desert folk, Quicksand Eels and Wenut are all descendants of the giant serpent that once devoured the sun. Although this statement is but groundless, judging from the research on Sand Grease Pupa, it does share many similarities with the body fat of Wenut given their respective composition. It is precisely because of this that sometimes cunning merchants will collect Sand Grease Pupae and grind them into powder to pass off as the high-end spices extracted from the body fat of Wenut.