Predator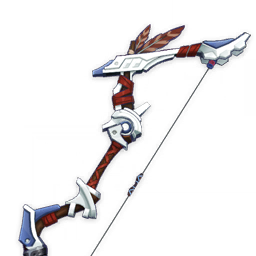 Predator
4★
Bow
A uniquely-designed bow. This should not belong in this world.
Stats:
Asc.
Lv.
Base ATK
ATK%
A0
1
42
9.0%
A6
90
510
41.3%
Click to expand...
Refinements:
Refinement
Desc
Strong Strike

R1

**Effective only on the following platform: ** "PlayStation Network" Dealing Cryo DMG to opponents increases this character's Normal and Charged Attack DMG by 10% for 6s. This effect can have a maximum of 2 stacks. Additionally, when Aloy equips Predator, ATK is increased by 66.

Click to expand...
Ascensions:
Asc.
Mora
Items
A6
45000
Click to expand...
Lore:
The blacksmith who accepted the commission asked why this order had to be made this way and why it had to be named like this.

The answer was rather complicated: something about machine beasts that roamed all over the world, and something about polearms not having override codes.

The blacksmith understood quickly enough, though. So this bow was some powerful weapon used to hunt and kill these mighty machine creatures, and so it was the apex predator of that world.

But the strange girl corrected him.

She was just going to use this to hunt wild boars next, since it appeared that in this world, using bows and arrows to hunt would actually allow one to harvest Raw Meat.